Admin Professionals Day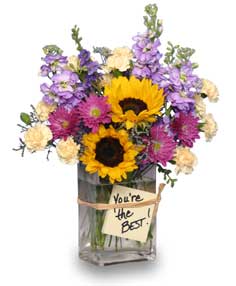 YOU'RE THE BEST!
Arrangement
Celebrate all they do and honor them with beautiful flowers from AUTRY'S 4 SEASONS FLORIST. Expressing your appreciation with a fresh bouquet is the perfect way to say YOU'RE THE BEST! Call us to schedule delivery or order flowers online 24/7.
Show your team how much you care this Administrative Professionals Day by sending a bouquet of fresh flowers. Your staff will be delighted to receive a special gift from you and will be able to enjoy them all week long! Administrative Professionals Day is all about showing your appreciation to your staff. Let AUTRY'S 4 SEASONS FLORIST take care of everything for you, all you have to do is call, click or stop by!