Gift Items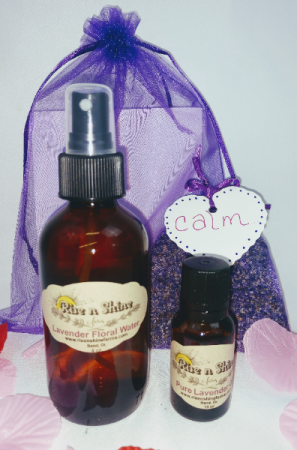 Locally Made Lavender Oil,
Floral Water and Dried Buds Sache'
The farm is grown, harvested and distilled right here in Bend. Potential uses of the oil, hydrosol water and dried buds, the OIL is antiviral, anti-fungal, antiseptic aid, disinfectant, anti-inflammatory, relieves muscle tension, accelerates the healing process, anti-depressant, insomnia aid, circulatory stimulant, mild sedative, helps reduce nervous tension, smoothing and calming properties, stimulates and supports immune system. The HYDROSOL WATER- Body spray, facial and acne treatment, sunburn skin cooler, foot spray, counter top cleaner, linen spray and the lists goes on.....Enjoy. Makes a great GIFT!
More Info
Flowers convey a message that cannot be put into words. AUTRY'S 4 SEASONS FLORIST of Bend, OR provides a variety of fresh, fashionable floral designs to ensure that your gift is one of elegance and beauty.
When you're looking for a unique hostess gift, token of appreciation or just a surprise to brighten someone's day, let AUTRY'S 4 SEASONS FLORIST customize and deliver one of our many fun, decorative & luxury gifts! We create dazzling presentations that are sure to please for any gift-giving occasion.
Gift baskets of gourmet snacks and fresh fruits are always in style and are appropriate for almost any occasion, any time of year! Need a gift for a "hard-to-please" person on your list? We can take your special requests and design a custom basket filled with gift items, food and snack favorites ~ personalized especially for your friend or loved one.
To get your custom gift items, come by and see AUTRY'S 4 SEASONS FLORIST - your local Bend, OR florist.
PLEASE REMEMBER THAT EACH SELECTION IS CUSTOM MADE AND SUBSTITUTIONS MAY BE NECESSARY. WHEN YOU ORDER CUSTOM DESIGNS THEY WILL BE PRODUCED AS CLOSELY AS POSSIBLE TO THE PICTURE.